Diversity and Inclusion in Jotun A/S
In the following section we provide some facts and figures related to Diversity and Inclusion in Jotun A/S in Norway as of end of 2021 (as per required by The Equality and Anti-Discrimination Ombud).
Diversity and Inclusion is included included in the company's strategy for 2020-2023, recognising four areas for taking action: Understanding, Identifying, Attracting and Developing. Jotun A/S follows the Group's Global Diversity and Inclusion policy. Major activities supporting the above mentioned focus areas are as follows:
Understanding: The Human Resources Information System supports us to follow and understand diversity measures across the organisation. Workshops are held for managers and employees on the topic to increase understanding and awareness. As an example Diversity and Inclusion is an integral part of the annual "From Strategy to Implementation" training which is mandatory for all managers at Jotun A/S, taking place at the beginning of the year. Through this workshop each manager creates action plans and cascades goals for their team members. In this way we secure that Diversity and Inclusion is adressed on all levels of the organisation.
Identifying: Jotun Group has identified key focus areas to track diversity development on Gender, Age, Nationality and Profession. These focus areas are reported and followed up twice a year during Business Review. In additon Jotun works on less quantifiable diversity to ensure that all employees feel appreciated and included in Jotun A/S independent of their identities.
Jotun A/S works closely with employee unions, with theme meetings twice a year. The company also ensures close dialogue during salary review, believing that constructive cooperation with unions and active dialogue contributes to increased diversity and inclusion within company.
Attracting: Jotun has a strong recruitment practice which promotes diversity and stands against any type of discrimination. Human Resources department is the professional partner that supports all recruitment processes and continuously works with educating managers and raising their awareness towards advantages of having a diverse workforce as well as being aware of biases in the recruitment process that if not identified may lead to discrimination. Jotun also ensures that team composition is considered when recruiting new team members.
Developing: Diversity and Inclusion is an integral part of most leadership trainings within company, as well as diversity among managers is regularly monitored and kept in mind during internal promotions/rotations.
Risk assessment
Jotun's salary policy supports an annual evaluation process that helps us discover where there are discrepencies against principle of right, fair and competitive pay. And Jotun works to ensure gender pay equity. The recruitment policy which is transparent and standardised, allows Jotun to map the risks and through cooperation ensure that our values are followed. The company whistleblowing channel ensures that employees have a safe and easily accessible way to raise their voice if unfair practices are observed.
Results and moving onwards
Jotun works with a continous improvement approach and observe, among other, that the female proportion in the company is increasing, as well as number of nationalities. During 2021 we have recruited several employees with widely different backgrounds. In 2020, workshops were held across Jotun, including Jotun A/S to raise awareness among all managers. In 2021, this has been followed up through Business Reviews, management trainings, robust internal and external recruitment processes and other.
Jotun Group has started 2022 with launching the global Jotun Diversity and Inclusion policy which calls for action in each and every unit, including Jotun A/S. The company will this year continue to map diversity and raise awareness, in addition to putting in place a local plan of additional activities that promote diverse workforce and inclusion.
In January 2022, we launched a Diversity and Inclusion Index where all employees were invited to give their feedback on the company's work on Diversity and Inclusion. The result showed that 85 per cent of the employees responded that they experience their manager and Jotun A/S to foster an inclusive culture. Nine per cent answered neutrally, while six per cent felt less included. This is a solid high index rating that Jotun is very proud of. At the same time we will continue to work on the areas where our employees have told us we can improve, to keep developing and target the Diversity and Inclusion work in Jotun A/S for 2022.
Results of Diversity and Inclusion Index
In the below table you can see the questions asked as part of the Index and result distribution. Jotun notes that while overall results are very good, there are certain areas to improve, such as ensuring that advancement opportunities are available to employees regardless of personal background or characteristics. This shall be done by continuously coaching managers in biasfree recruitment and performance management, as well as enhanced and transparent feedback to the organisation on competence based criteria for recruitment and promotions.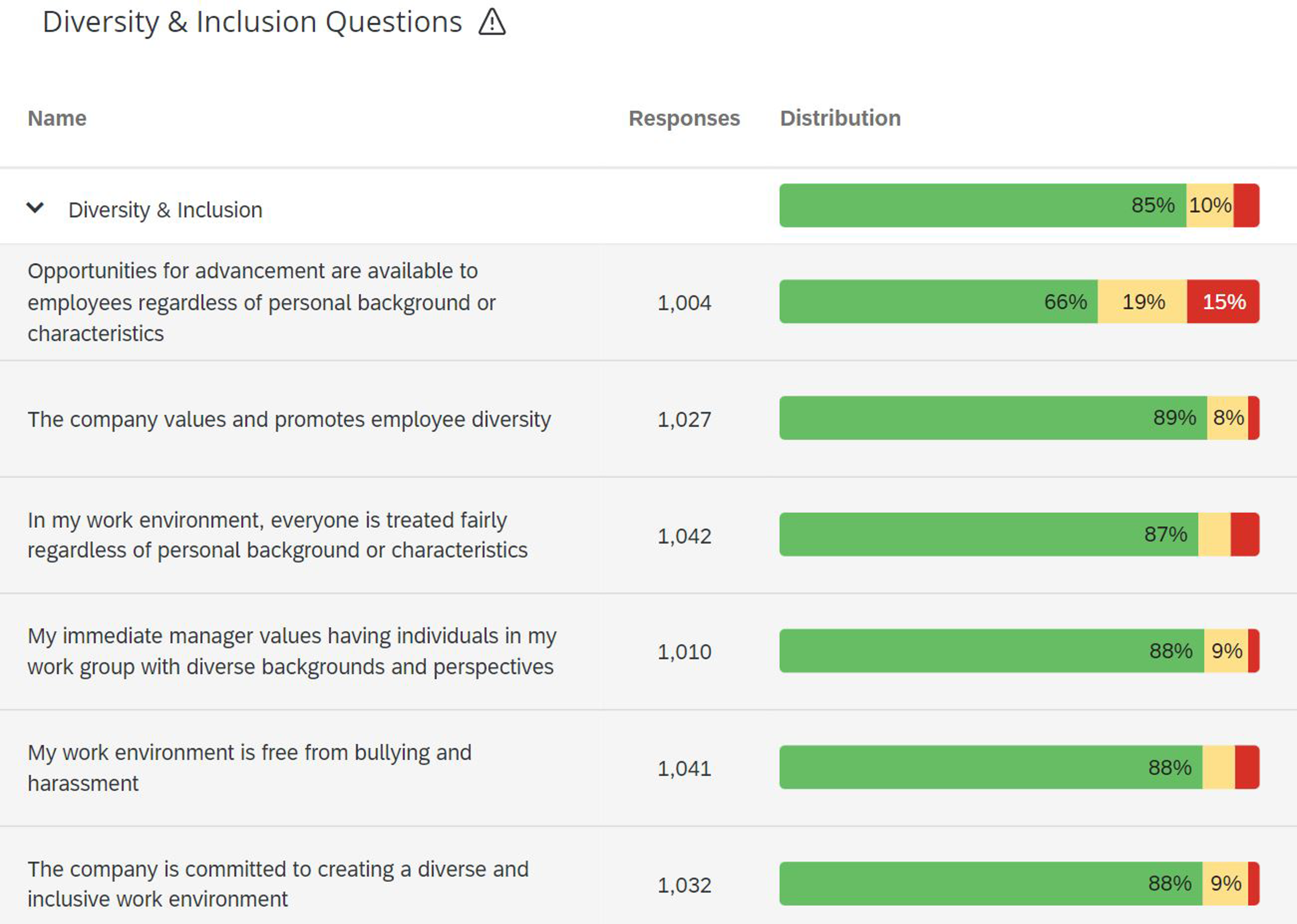 Gender distribution Jotun A/S
Among the 941 permanent employees at the end of 2021, there were 298 (32 %) women and 643 men (68 %).
Gender distribution – managers
Among these employees there were 211 managers. 69 of those (33 %) women.
Gender distribution – top management
There are 9 direct subordinates to the President and CEO. 3 of them (33 %) are women.
Part-time employees
At the end of 2021 there were 35 permanent employees (3.7 %) not working in 100 % positions. 20 of those (57 % of total) were women. It is important to note that part-time positions are not part of Jotun A/S recruitment policy – all employees working less than 100 % have chosen to do so voluntarily, most common reasons being family-work life balance, approaching retirement age and other personal circumstances.
Temporary employment
At Jotun we strive to employ in permanent positions, however, certain reasons may call for temporary employments. Some of the most common reasons are – temporary recruitments to cover for maternity/paternity leave absence, temporary recruitments to cover for long-term illness absence, temporary project work.

For short assignments opportunities are given to younger students, as well as there are approximately 30 apprentices hired at any given point in time, most of which have 2-year contracts.

At the end of 2021 there were in total 16 temporary employees with agreements of length between 6 and 18 months. 8 of those were women and 8 were men.

Services of a third-party recruitment agency may also be used, in case of temporary need for resources.
Parental leave
In 2021 there were in total 57 employees at Jotun A/S who during the year have been on parental leave (23 women and 34 men). Among women average number of absence days due to parent leave in 2020 was 94, while 42 among men. These numbers are taken only for calendar year 2021 and thus omit possible absence days for the same employees in 2020 or further on in 2022. Note that this includes both parental leave and 2 weeks of leave that coparent is eligible to take off in connection to birth. These two weeks at Jotun are paid leave.
Nationalities
By the end of 2021 there were 941 permanent employees at Jotun A/S. These employees represent 37 different nationalities. Nationality is the best way we have found to measure diversified ethnical identity. Within our employees who hold a majority identity, there are also people with diversified cultural background. Jotun is proud of our culturally diverse workforce and believe this to be a competitive advantage and a crucial trait for headquarters of a global company.
Age
Average age at Jotun A/S by end of 2021 was 47. Among managers average age by end of 2021 was 49, while for rest of employees, average age was 47.
Equal Pay
Jotun A/S uses Korn Ferry's Market Salary Data to ensure compensation governance and do statistical analysis across paygrades, gender, age, seniority etc. If unjust discrepancies are discovered, a plan is put in place for extraordinary increase to decrease the gap. No major gaps linked to gender have been reported during salary review 2020 and 2021. In 2021 a new HR management system was launched which also included review of the existing pay level distribution in the organisation.
In the following section we present analysis of salary level within Jotun per December 2021, as well as some comments.
Operators
Approximately 20 % of Jotun A/S employees are operators. Salaries of these are not individual but based on local tariff agreement which is reviewed on annual basis. These are excluded from analysis.
Apprentices
Jotun has apprenticeship program, which includes 20–30 apprentices. Salaries of these are not individual but based on local tariff agreement which is reviewed on annual basis. These are excluded from analysis.
Permanent employees with individual salary
For analysis, we are looking at permanent employees at Jotun A/S with individual salaries.
We perceive monthly salary to be the unit of analysis as none of the other payments are individually connected to the person or his/her performance. Furthermore, we exclude the levels that host less than 5 employees of each gender.
See below table that shows salary % comparison between females and males per each grade.
| | | | |
| --- | --- | --- | --- |
| | Females | | Males |
| Grade | No of employees | % of average salary/male | No of employees |
| 12 | 12 | 104 % | 7 |
| 13 | 11 | 96 % | 38 |
| 14 | 16 | 94 % | 27 |
| 15 | 22 | 89 % | 40 |
| 16 | 58 | 97 % | 94 |
| 17 | 62 | 98 % | 91 |
| 18 | 46 | 94 % | 83 |
| 19 | 39 | 96 % | 37 |
| 20 | 9 | 96 % | 24 |
| 21 | 7 | 102 % | 18 |
Comments
The table above shows salary comparison between females and males within each grade. This proportion varies from 89 % to 104 %.
As with every salary review also in 2022 analysis will be performed across organisation to ensure no unjust practices are in place, keeping in mind that salaries for administration are individual. If and where unjustified discrepancies are observed, HR in cooperation with the unions and managers work towards diminishing differences.