Ready, set, go!
Jotun is pursuing sustainable solutions in various parts of the organisation. 11 May 2022 our first electrical truck made its debut at the Vindal factory in Norway. "This is only the beginning", according to sustainability manager Agnethe Eyde.
"My Jotun heart is beating extra fast today", said Bjørn Ole Gleditsch.
The mayor of Sandefjord municipality is also the grandson of Jotun founder Odd Gleditsch Sr. He was clearly proud when giving his speech at the Vindal factory Wednesday May 11th.
The occasion was the launch of the first electrical truck put into use at a Jotun site; a Volvo FL Electric – the very flagship in Schenker's electrical fleet. We have cooperated with the global logistics company for several years, and now the partnership has reached a new level.
Mr. Gleditsch pointed out the importance of companies utilizing their purchasing power and acting responsibly – as well as working together – if we are to solve the climate challenges and reach our goals.
"Going forward, businesses that innovate within sustainability and take this issue seriously, will have a competitive edge", he continued.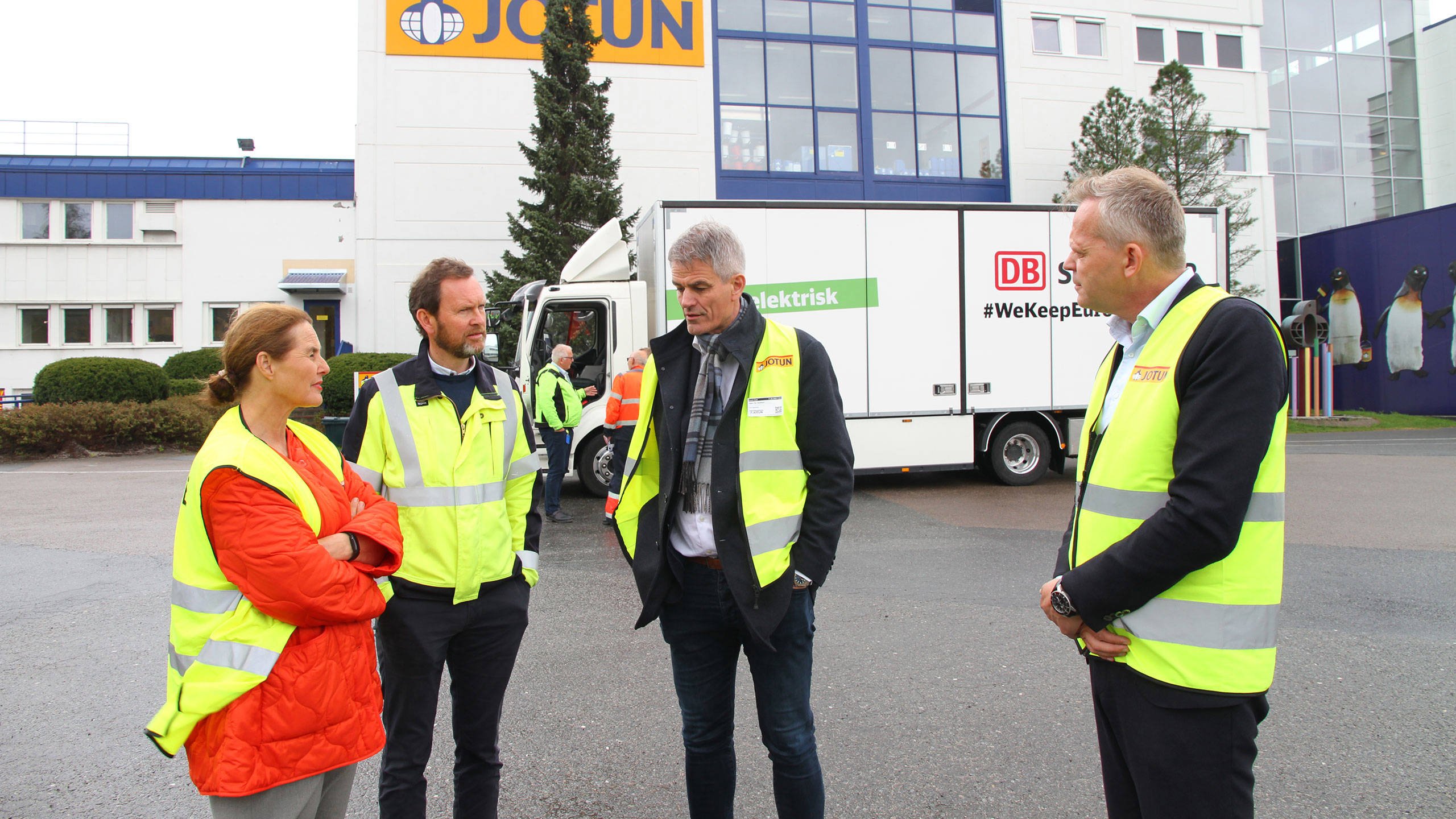 The truck will make several daily legs from the factory to a logistics hub just north of Sandefjord – from which our products will continue their journey to Scandinavian shops and customers.
"Jotun has protected property for nearly a century – and our GreenSteps programme has run for more than a decade. However, in many ways our sustainability journey has just begun. Going forward, we need partners such as Schenker in every part of the value chain if we are to reach our goals", said sustainability manager Agnethe Eyde.
"We are excited about today's launch of this fully electrical transport alternative. At the same time, it is important to say that we have way larger ambitions for Jotun's global logistics activities than merely one electrical truck. We need to challenge our partners and our own companies if we are going to achieve what we want and enable our customers to reach their sustainability goals. This is only the beginning", she concluded.
CEO Knut Eriksmoen in Schenker Norway added on to Eyde's comments.
"Reaching our sustainability goals is a long journey consisting of many small steps. It may be painful at times, but it is important. And it's the totality of our small steps that matters", he said.