"},"meta":{"fields":{},"componentId":"f3356244-ff8a-45d8-baa7-b08a8dcb4a29"},"resources":{"navigation":{},"dynamicComponents":{},"taxonomies":{},"labels":{},"facets":[]},"data":{"products":{},"colours":{},"rssItems":{},"categories":{},"payloads":{},"productsV2":{}},"fields":{"title":{"fieldMeta":{"fieldId":"ebff444c-6c71-426d-b4f6-a5a1ae9aa008","liveEditData":""},"value":"Interior colour collection 2020"},"text":{"fieldMeta":{"fieldId":"4d83f27a-d5d4-4382-9294-2155f13c1fdd","liveEditData":""},"value":"<div>If you're planning to change the world, start close to home.</div>\n<div style=\"display: none;\" />"},"image":{"fieldMeta":{"fieldId":"21fb49b2-4372-4c47-b6f4-fa512864bb9b","liveEditData":""},"value":{"fields":{"desktop_image":{"fieldMeta":{"fieldId":"76bb008b-f6a9-4efd-a220-31ca4c7d18eb"},"value":"/contentassetsjot03/954197aac8284acd906ee4d06d1b4400/h-jotun-8546-local-green_1280x720_tcm301-172299.jpg"},"mobile_image":{"fieldMeta":{"fieldId":"9a3159a1-58dc-4db1-8653-4bd35b18c91b"},"value":"/contentassetsjot03/954197aac8284acd906ee4d06d1b4400/h-jotun-8546-local-green_720x720_tcm301-172298.jpg"}}}},"video":{"fieldMeta":{"fieldId":"3785cc2a-c90e-4176-9e5b-82473685cf9f"},"value":"/siteassetsjot03/video-import/adventure_1_tcm312-173412.mp4"}},"globalData":{"selectedTheme":"Deco"},"componentTemplateMeta":{},"projectComponents":{"FooterAccordion":{"displayName":"WithTheme(n)"},"GlobalSearchV2":{"displayName":"WithTheme(Connect(Component))"}}}">
The colour trends of the coming decade
The 12 new shades of 2020 Colour Design By Jotun each express a particular aspiration, a facet of contemporary living, or a distinct character trait. From the protective earthiness of Grounded Red to the bold and creative Statement Blue, the intellectual sophistication of Wisdom to the playful exuberance of Lively Red, Jotun's 12 new colours are all designed to inspire a specific emotional reaction.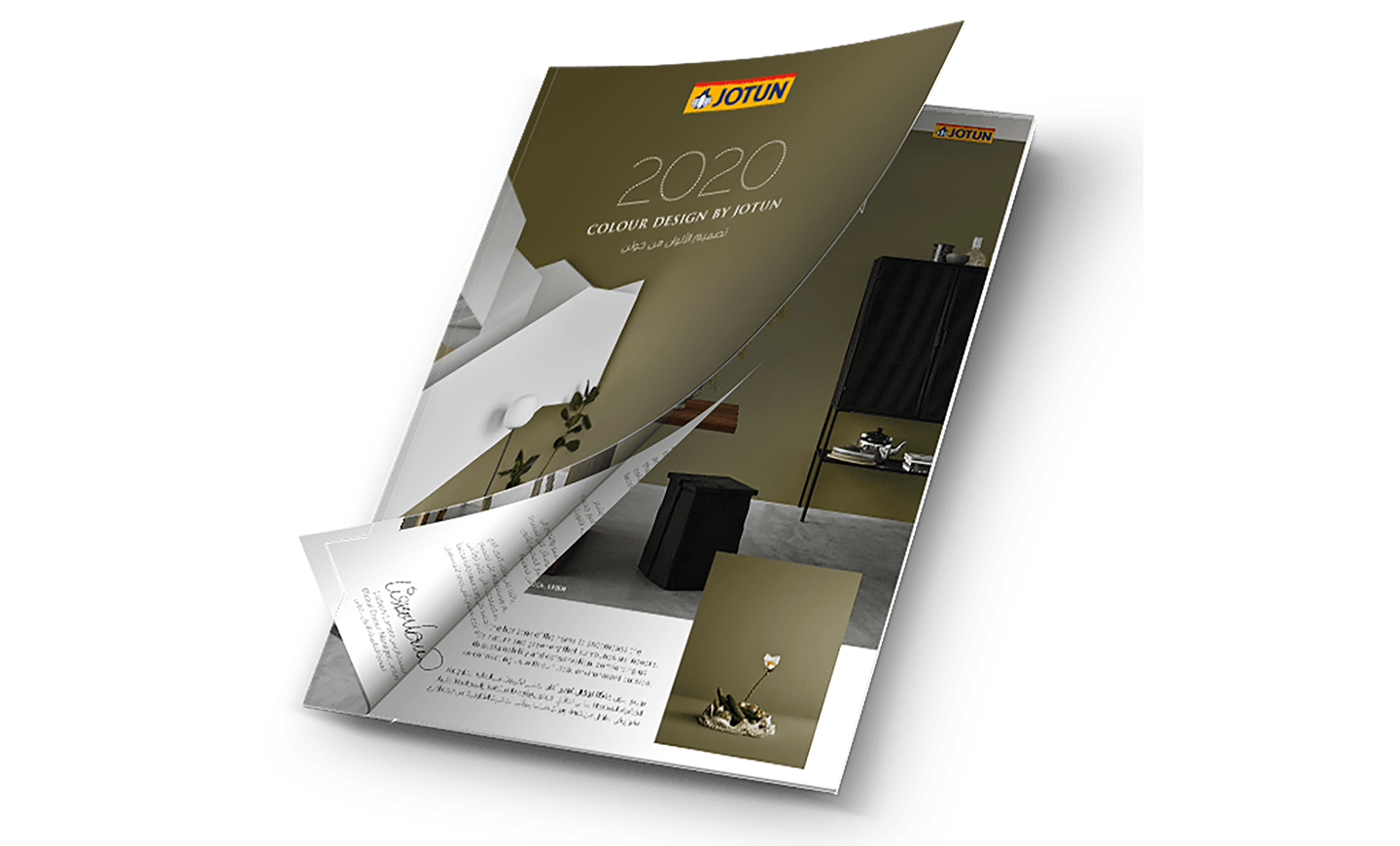 Colour Collection 2020 Brochure
These pages celebrate the 12 new Jotun colours of 2020, each one capturing a different facet of personality or a new hope for the future.
View Brochure